SkyCity fire live: Staff expected back at the site in days
October 23, 2019 in DunedIn
KEY POINTS:
• At the fire's peak, 130 firefighters were battling the inferno, which has been burning since 1.15pm yesterday
• Air pollution levels in Auckland's central city exceeded the safe standard for the first time in 10 years
• Fletcher Building confirmed there was no fire alarm system on incomplete centre levels
• Inside convention centre fire: Expert explains what's driving blaze
• SkyCity fire: Health risks from toxic smoke explained
• Auckland Regional Health Service has released its latest advice after SkyCity's convention centre fire
Hot spots are still flaring tonight on the roof of the SkyCity convention centre.
This afternoon, Fire and Emergency regional manager Ron Devlin said the roof had nearly burned out.
About 20 per cent was remaining, and was being contained from spreading through the building by the water they were using.
They expected by 8pm the roof would have fully burned through and smoke would begin to dissipate.
SkyCity was expected to be open and trading by Friday following the convention centre inferno, its chief executive says.
Graeme Stephens addressed media this afternoon alongside Prime Minister Jacinda Ardern and Fletcher Building boss Ross Taylor.
He said he hoped the site would be handed over tomorrow afternoon and staff would return to work on Friday.
"In the longer term, we were looking to staff up to 800 people in the year ahead. A large component of that will still hopefully be on our payroll."
It would need to be assessed whether the adjoining Horizon Hotel "is capable of being open".
"But our intention is to have it open next year, going into summer, in advance of the America's Cup. With a bit of luck we can achieve that.
"Obviously the pure convention employees … that's the part that will be delayed until we've got a convention centre."
Taylor said some sub-contractors working on the project left their tools on the site because of the quick evacuation and they had set up help centres to help those people and once they get back into the site, they would return them.
They were working out individual plans for their employment.
"Some of them will be very busy and they can re-employ easy. Others might not be … in the medium term there will actually be more work because we've not only got to finish what we had to do but we've got to rebuild a chunk as well."
Ardern said: "This devastating fire will be hugely disappointing for all those involved … it had come so far. To see this major setback, will be a blow to the workforce."
She wanted to acknowledge firefighters who had been working under difficult circumstances.
"The team on the ground have been incredibly professional, very focused on what they can do to preserve the building."
She also wanted to acknowledge Fletcher's and SkyCity who had been open and honest about what was happening.
When asked about the economic impact on business, she indicated there would be some sort of financial compensation. It would be a small number of businesses affected.
She said Apec 2021 would still be held in Auckland. But where it would be held was a point of discussion for Government.
Fire and Emergency regional manager Ron Devlin said a firefighter was taken to hospital with a concussion after a piece of roofing fell on him while battling the inferno today.
Focus Live: Firefighters are 'winning the battle' against the fire
"It was unusual, may have been flicked off in the wind. It is not what we want to happen, and the reason we have been very careful with internal operations."
There were about 80 firefighters on the scene currently, down from 130 at the peak.
Firefighters are "winning the battle" against the fire, he said. But the emergency was not over – there was "quite some time to go yet".
"My view is there is no chance of the fire spreading down. I am confident the fire is already contained.
"What we have is a burned structure, still smouldering. Probably about 20 per cent of the roof is still burning, and once that is burned it will have burned itself out."
Meanwhile, the toxic tide of water from the inferno is being swept into Auckland Harbour.
Auckland Council's regulatory compliance manager Steve Pearce confirmed there were concerns regarding the water run-off sweeping debris and contaminants into the harbour.
About 16 million litres of water have been used so far to fight the blaze – and some of this will enter the harbour via the stormwater network.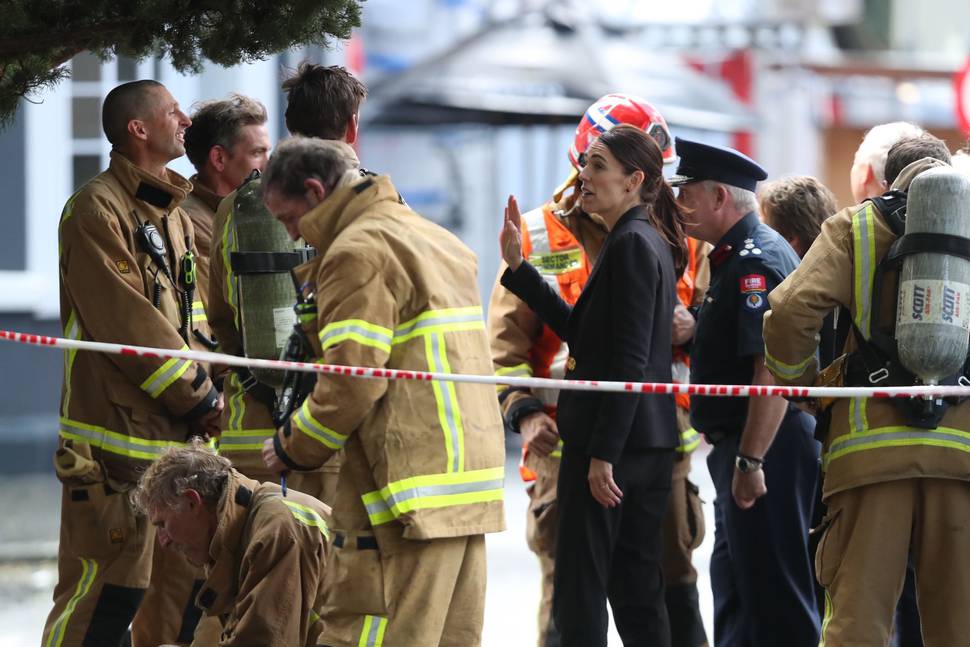 Firefighters are pumping an estimated 200 litres of water per second on the blaze.
Watercare's Ponsonby and Auckland Domain reservoirs have been providing around 200 litres of water a second more than normal. This has not affected the rest of the city's water supply.
Craig McIlroy, who heads council's Healthy Waters division, said between half and three-quarters of the water used to fight the fire will be released into the atmosphere in the form of steam.
The remaining road run-off enters the stormwater system with cesspits for solids to drop out. A "pretty small volume" of polluted water will enter the harbour, he said.
McIlroy said the environmental impact of the fire for the harbour would be short-term, saying after one or two tidal cycles the contaminated water would go out into the wider channels.
Pearce said the Resource Management Act has a provision during emergency situations such as the SkyCity fire which allows for run-off from fire-fighting to occur.
READ MORE:
• SkyCity fire live: Inferno rages, roof fears, TVNZ evacuated
• SkyCity fire live: Firefighters battle blaze into Wednesday morning
• SkyCity fire: Health risks from toxic smoke explained
• Inside the SkyCity Convention Centre fire: Expert explains what's driving blaze
"It is a balance to ensure there is minimal impact on our waterways while also ensuring that emergency services can prioritise the response.
"Fire and Emergency New Zealand work hard to ensure that this run-off is minimised. Auckland Council and Watercare will be monitoring this as the incident continues," he said.
A mayoral spokeswoman said in an emergency situation such as this, containing the fire is the first priority.
"In these circumstances, we are advised that it isn't possible or practical to pond and cleanse the water. We are also advised that any run-off that makes its way into the stormwater system will be very diluted," she said.